Mandao will provide food delivery service from restaurants and bakeries to the residents of Cárdenas, Santa Marta and Varadero
As of April 5th, Mandao Mandao expands service to Matanzas to Cárdenas, Santa Marta and Varadero in the province of Matanzas, Cuba. Yes, those delivery guys with their cool yellow backpacks are Mandao's.
Not to brag, but if you don't know us yet, you're behind the eight ball. We are already in Havana with more than 200 restaurants and four thousand meals to entice you, and in Holguí­n we have seven restaurants and offer hundreds of dishes. If you don't know us yet, check us out. Be casual about it. Download the Mandao app (for Android and iOS), punch in the delivery address and you will see the nearby restaurants from where you can order. It is a great idea if you want to surprise your friends or family.
It doesn't matter if you are abroad. Mandao has always been a bridge with your loved ones in Cuba. Payments and orders can be made directly from the app with your credit cards. If you have questions, here are some tutorials in Spanish and English. Deliveries will be made in Havana, Holguí­n and Cárdenas, Santa Marta, Varadero, where customers can also call Mandao's phone number at +53 59170274.
Matanzas' Fun Facts
This western province, known as The Athens of Cuba, is located in a bay in which four rivers converge: San Juan, Caní­mar, Yumurí­ and Bacunayagua.
Founded in 1693, Matanzas dominated the cultural landscape of the 19th century in the country. Intellectuals of the stature of Plácido, José Marí­a Heredia and José White combined literary gatherings with music, transforming the colonial territory in what was called "The Athens of Cuba".
An imposing concrete structure 313.5 meters long, 16 wide and 110 high at the entrance to Matanzas connects it with the neighboring province of Mayabaque. Known as the Bacunayagua Pass, the bridge is one of the seven wonders of Cuban civil engineering.
And Matanzas also has a mummy! It lays in the Palacio de Junco, and it is the "little treasure" of the town. At the time of its discovery in 1964, the mummy was well preserved with all of its internal organs. In life she had been a woman, Josefa Ponce de León, who died at the age of 56.
But Matanzas' surprises do not end there. It turns out that camels were imported in the 19th century (and not precisely as a means of transport). The idea was to use them to move the freshly cut sugar cane towards the mill, taking advantage of these animals' physical strength. The first of these ruminants arrived in Cuba in 1834, but it is not known exactly how long this practice lasted.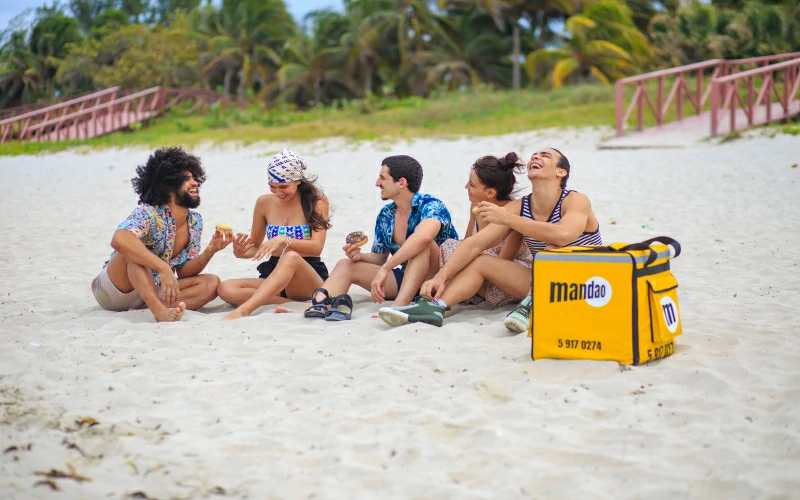 Created and operated entirely by Cuban entrepreneurs, Mandao seeks to take advantage of the availability mobile of the Internet and the need for restaurants to serve their customers at home. We also offer deliveries from agricultural markets and farm to table baskets with products from local farmers.
Download the free application for Android and iOS. Mandao began operations in September 2019 and, as of today, has more than 28 000 people using our platforms.